Elmo Loves ABCs
I oversaw the redesign of this award winning app for iOS, Android, and Windows. The biggest design challenge was incorporating a lot of additional content. This was accomplished with a "clever lever" gear switch in the bottom left, raising an extra content panel, making it easily accessible throughout the app experience as well as fun to get there.
Like most Sesame apps, there is a locked parent's section to track children's progress.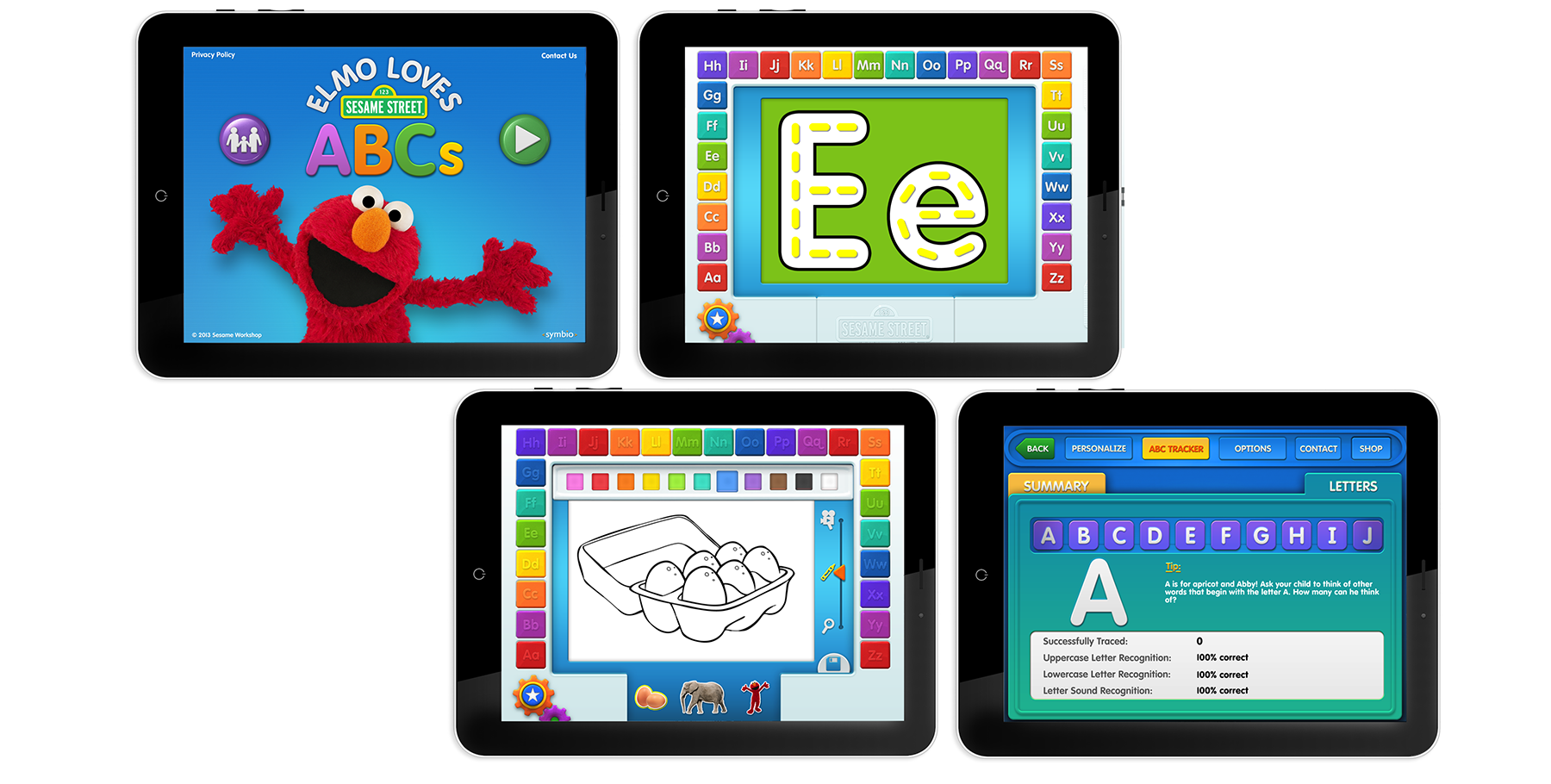 Little Children, Big Challenges: Incarceration
This resource app is for families coping with a loved one who is incarcerated. The overall design goal of this app was to maintain Sesame branding with more serious, adult facing content while conveying a sense of calm. This was achieved with a clean look and color palette, patchwork accents, and a slow "page flip" animation.
Let's Get Ready
This Parent's Choice Gold award winning app for iOS and Android devices is a partnership with PSE&G teaching preparedness in emergencies. I art directed and designed assets for an overall user experience that takes you through topics, tips, videos, checklists, resources, as well as a separate children's activities section.
Little Children, Big Challenges: Divorce
This bilingual iOS and Android app provides parents and caregivers with tools to help children cope with transitions related to divorce or separation. The drop bucket functionality easily takes the user from section to section. I used monochromatic text colors to further identify which topic or section the user is in.
The Big Moving Adventure
This Parent's Choice Gold Award winning iOS and Android app is part of the Sesame Street for Military Families project. To make moving fun, the child creates their own identity from an avatar machine of interchangeable features. The main menu is a map of the moving journey with environments unlocked from each screen progression to get to your new home and make new neighborhood friends.
Homepage App Icons
I really enjoy the conception and design of a homepage app icons as you need to summarize the click through you're about to experience in a very small space.
To visually batch them together in the app stores, I created the Outreach and Social Impact specific apps with a flat or illustrated look with a white background.